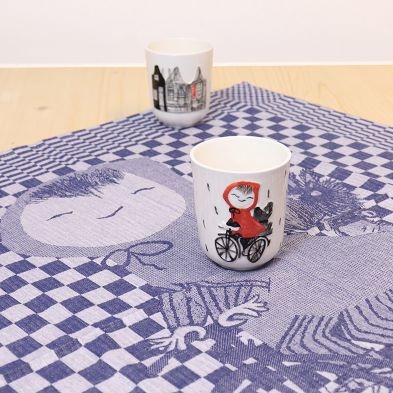 Dutch Waaren Tea Towel .
The tea towels from Hollandsche Waaren have a story that has been known to young and old for many generations. There are tea towels with Dick Bruna, Jan Jans and the children Miffy. But Hollandse Waaren has also made a beautiful design for the well-known Zaanse Museum. There is also a nice number of tea towels with drawings by Fiep Westendorp: Pim & Pom.
Hollandsche Waaren is a collection of self-designed products, made of materials such as ceramics and textiles. The designs are designed in their own way to what the Netherlands is known for. By focusing attention on details, Dutch elements are more prominent and an innovative product is created. Hollandsche Waaren is the label of Anne-Marie Jetten
Anne-Marie Jetten (1973) graduated in 1998 from the School of Arts in Utrecht, department of 3D Design. Subsequently, in 2000 she obtained her MA at the Sandberg Institute, Applied Arts Department in Amsterdam. With relevant work experiences at Pols Potten in Aalsmeer and various projects, Hollandsche Waaren was one of the first labels with the Holland theme in 2003. All products are designed with a nod to Dutch symbols and features.
Anne-Marie Jetten:
"After said graduating from the HKU with the graduation project: 'the people on the move', depicted in various picnic rugs + homeless project, her study started at the Sandberg Institute in Amsterdam. A great project was also commissioned by Young Designers & Industry for Forbo Krommenie. This brought her to colleagues in Japan. There she did not escape the cliché images that prevail over our country: Delft blue, tulips, windmills and clogs "of which we are very proud of course"
In 2003 the first series of Delft Blue products was presented in the Beurs van Berlage, Amsterdam. A very nice new souvenir with a nod to the well-known visual language of the Netherlands. People keep moving, we bring our own culture. Why not put it in a contemporary form? It has now become a whole series of products, based on those elements for which the Netherlands is so famous. But in a stubborn way: to complement what needs to be renewed. "