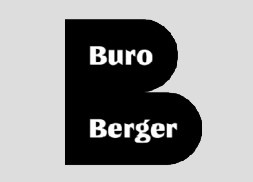 Buro Berger bij BijzonderMOOI*
Buro Berger; Where design meets lost and found objects, a home for design & art
Gerbrand van Nijendaal and Berdien Righolt – two individuals, one passion. For years they have shared the same ideas about what is beautiful as well as a love for home accessories, so they already knew a collaboration was coming. After many years of working together at a large Amsterdam interior label, they eventually each followed their own path, each gaining a lot of specific knowledge.
Now that, after five years, their paths have crossed again, it is time to join forces and ambitions and pursue the shared dream through cooperation.

The Lebel
Their distinct taste is Berger's guiding principle. They work with young, renowned designers and artists who don't stop at submitting a design. They work with them from start to finish. This results in contemporary, special and
high-quality products that last a lifetime. And you want them to last a lifetime because they are so unique and beautiful. That's Berger.

Their company
They do not intend to keep their knowledge to themselves. They use it to support other brands and designers. For example, they can help you put together a collection, find a label for a design, or advise on production or launch. With their network, knowledge and partnerships they help other brands to grow. That's what makes them Buro Berger.