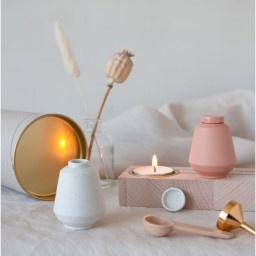 Roosmarijn Knijnenburg - Urn Loved between the Stars
Loved among the stars, ceramic mini urn for a small (symbolic) amount of ashes of your loved one.
This urn by Roosmarijn knijneburg was designed in collaboration with Hella Duijs for all the showpieces of the Hold it. These beautiful urns are handmade from porcelain, the colors are also mixed by hand by Hella using her own recipe. This makes each urn unique and very special, a place where you can collect beautiful memories that are so dear to you.
The urn has a beautiful matte appearance and beautiful glaze layers. Beautifully packaged in a cotton/linen bag and tube with gold accents, brass funnel, zip bag and wooden spoon. Content urn: 30 ml.
Roosmarijn Knijnenburg produces its products sustainably and locally, which is also very important to us. For example, the beech wood is FSC certified and the products are made by hand in the Netherlands.