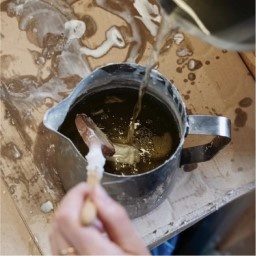 Roosmarijn Knijnenburg Candles
Roosmarijn Knijnenburg's candles are made with love by the Haegsche Ambachtelijke Kaarsenmakerij, where people with disabilities or who are disadvantaged in the labor market work. They receive vocational training in candle making and attention is paid to personal development. The candles are dipped the old-fashioned way and burn for 1.5 hours. Without grease, oil and fragrance!
The scented candles are made from soy wax: a product that is as sustainable as possible and completely vegan! Soy wax candles burn 30% to 45% longer than paraffin candles and less soot is released when the candle burns. The wick is made of natural cotton flat threads interwoven with paper threads making them lead and zinc free!!