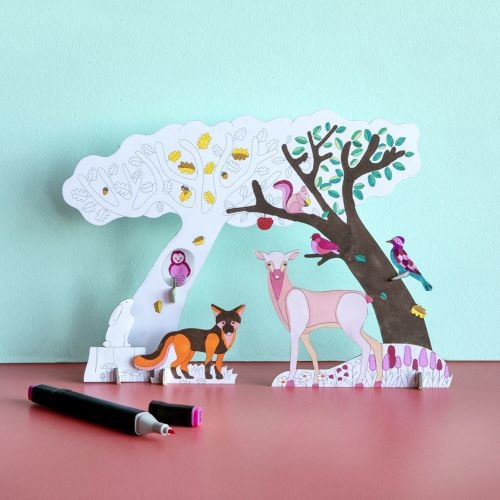 Kidsonroof - Let the imagination live out
What does Kidsonroof stand for;
Kidsonroof is:
creativity + imagination + sustainability = fun to play + visual fulfillment for the big ones!
Romy and her husband Ilya founded Kidsonroof in 2005. You can take that name quite literally, because it refers to 'children on the roof', or: children are the boss. Romy and Ilja wanted to make things that stimulate creativity without being imposed. For this, they often used their own children as test groups. The very first product was a cardboard white house, children can adapt the house themselves by drawing, painting or pasting and cutting on it. It is even possible to hang curtains. "The house soon spread all over the world. Kidsonroof received so many responses that we decided to implement other ideas as well. Because there was plenty of inspiration! "
At Kidsonroof they think that fantasy is not limited to an age. All things appeal to the imagination and Kidsonroof challenges both children and adults to come up with their own story and to be inspired. Many people put the Kidsonroof products in a beautiful place in their house, making them almost small works of art.
In 2014, Studio Roof was created from Kidsonroof. Romy: "Kidsonroof wanted to broaden the horizon with more than just children's things. They were looking for a sort of umbrella umbrella to accommodate multiple products, that became Studio ROOF. " All objects are designed for all ages.
Colorful designs conquered the world, building the 3d graphic puzzles is fun to do for young and old, they became little eye-catchers in the interior, Kidsonroof had given a great touch to their designs.
Then it will be 2020 and a beautiful collection will go back to the roots of Kidsonroof, various designs from the Studio Roof collection now without the exuberant colors, but with signed prints that can be colored in, so the imagination is stimulated again .