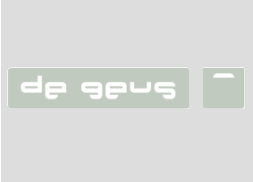 De Geus Bags at BijzonderMOOI*
At De Geus, all bags are lovingly handmade from the best Italian leather. The bags only get more beautiful over the years. The Geus bags have a surprising shape and are available in all kinds of beautiful colors.
Chris de Geus is the founder and owner of De Geus Bags.
After graduating from art school, she discovered her versatility, which you can see in the Mini Bag or, if you like a larger bag, in the Ripple Bag.
De Geus has mastered the design, expertise and styling of the handmade bags and accessories. For all ladies who love craftsmanship, quality and exclusivity and who want to look great.
With a great love for leather, yarn and colors Chris has an exclusive collection of bags designed and produced. Her charming and sturdy bag models are always of high quality. A sustainable product that lasts a long time.
Due to the unique design and practical implementation, each bag has a
nice overview for all personal items. A handy product made of Italian leather, which is comfortable to wear and which, after all the deserved attention in the studio, will meet its new destination!
So you go through the day nicely tidy, unless you make a mess of it in your bag, then it will make itself heard. An ideal bag is one that empathizes with you for years, without flaws. She completes your outfit and becomes a part of you.
The bags are made in Nijmegen in her own studio, so it is a real local product.
We at BijzonderMOOI* find it very important to work as sustainably as possible and applaud all Dutch Design with local labour.