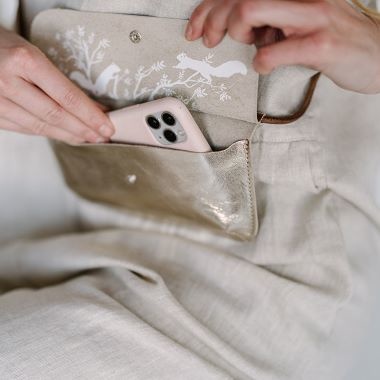 Keecie Phone Bag Hang On
Another fantastic design from Keecie; This lightweight and super functional pouch is designed to keep your phone close at hand. The adjustable strap allows you to wear it the way you want; diagonally in front of or behind your body in the height that you find comfortable.
Each Keecie item is completely handmade and therefore unique! This item is made of Used Look leather. 100% high-quality leather is used that is specially made for it
Keecie is made in Italy.
The leather for this bag is full-grain aniline cowhide, a type of leather that ages beautifully through use. The leather is provided with a thin protective layer of paraffin so that you can still see the beautiful structure.
That makes every Keecie bag really unique!
Like every Keecie design, this design also has a screen print on the inside; Two squirrels in a tree. You don't have to worry that they will run off, these will stay put!
Product information:
Adjustable strap extends from 78 to 136 centimeters
Snap button closure
Travel card or credit card pocket on the back
Suitable for iPhone 6 to iPhone 14 Pro Max
Outer dimensions 19.3 x 12 cm
Inner size 18.5 x 9.5 cm