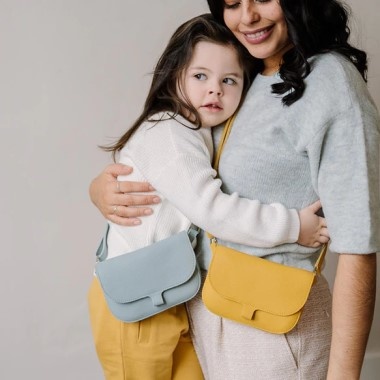 Keecie Bag Little Fox
Like all bags from Keecie, this Little Fox bag is a design that is timeless and will never go out of style. The bag is also fully equipped and made of durable Italian leather as you are used to from Keecie. But there is a difference with all other bags, because you can wear this bag in different ways due to its long adjustable shoulder strap. You can wear it as a shoulder bag, but the Little Fox can also be worn as a cool crossbody. Easy if you like to have your hands free while shopping or going to a restaurant, museums or even for a holiday. What makes this bag even more special is that you can even share it with your little girl thanks to the widely adjustable strap. The print on the inside already reveals it, mother fox together with her cub. How fun! Keecie did this because she often heard that children love the Keecie bags so much that they secretly borrow them from time to time. Isn't it wonderful to be able to share the Little Fox with your child!
Inside the bag there is a large compartment and a smaller compartment which is just the right size for aMini Me wallet. In addition, there is a flat pocket on the front, over the entire width of the bag.